Yeu Tsang Co., Ltd.--Connectors, waterproof connectors, DC power connectors, battery clips, cable assemblies, etc.--
---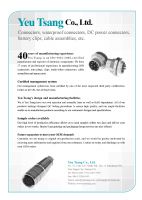 40 years of manufacturing experience
Yeu Tsang is an ISO 9001:2008-certified manufacturer and exporter of electronic components. We have 27 years of professional experience in manufacturing DIN connectors, auto plugs, clips, audio/video connectors, cable assemblies and many more.
Certified management system
Our management system has been certified by one of the most respected third party certification bodies in the UK, the AFAQ-EAQA.
Yeu Tsang's design and manufacturing facilities
We at Yeu Tsang have our own injection and assembly lines as well as R&D department. All of our products undergo stringent QC testing procedures to ensure high quality, and our ample facilities enable us to manufacture products according to our customers' designs and specifications.
Sample orders available
Our high level of production efficiency allows us to send samples within two days and deliver your orders in two weeks. Buyers' logo printing and packaging design services are also offered.
Future expansion to meet your OEM demands
Currently, we are trying to expand our production scale, and we would be greatly motivated by receiving more information and inquiries from our customers. Contact us today, and challenge us with your OEM orders.